Create a food chain mobile
Written by Analisa Duran
August 19, 2020
---
During FIU's Camp Inspire, campers learned about ecosystems and food chains. Counselor-In-Training, Hannah Velazco (13), worked on a special activity to help learners at home better understand marine life communities and interactions.
Velazco, along with an Education Outreach staff, created this FIU@Home activity based on what Junior Investigators and Explorers learned during this summer.
OVERVIEW
In this activity, explore marine animal interactions and how ocean food chains work. During Camp Inspire, campers met a different scientist each week. Two scientists of those scientists – Frances Farabaugh and Ana Zangroniz – help preserve ecosystem balance.
Farabaugh is a Ph.D. student at FIU and an aquanaut who specifically studies sharks and their role in the food chain. Zangroniz is a Sea Grant Agent and created a citizen science program to monitor disease affecting the coral reefs in Florida.
Zangroniz taught campers why coral reefs are important to the marine food chain as a habitat for fish and other marine life. It's this food chain that we'll use to create our marine food chain mobile.
But first, test your marine knowledge with this worksheet.
Once you've completed the above, follow gather your materials and follow the steps.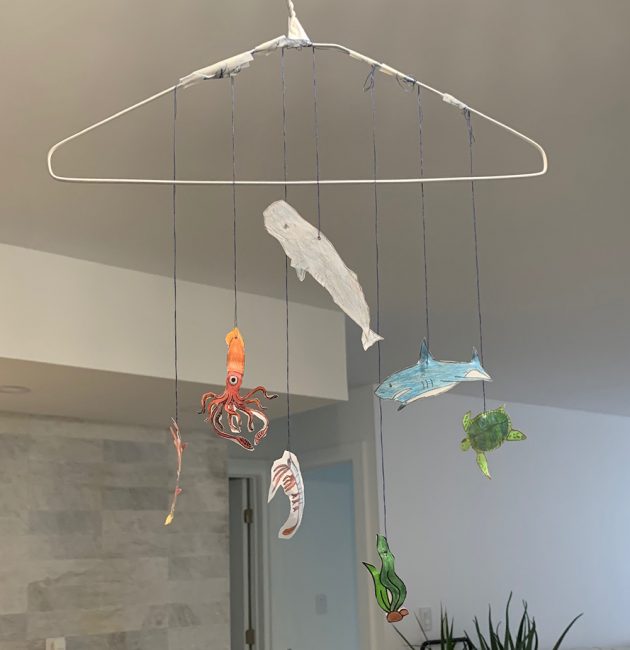 MATERIALS
A wire clothing hanger
5 pieces of yarn (about 12 inches long)
STEPS
Print the figures of marine life provided:

Sperm whale
Giant squid
Shark
Sea turtle
Shrimp
Algae/Sea grass

Color the figures
Cut thefigures out
Punch a little hole ontop of each figure
Tie one end of the yarn through the hole in each figure and tie the other to the clothes hanger so that it is hanging from the clothes hanger. Do this for each figure.
Hang the figures in order of the food chain
Enjoy your new mobile by hanging it in your room or use it to teach someone else about the amazing marine life food chain
NOW WHAT?
Camp Inspire summer camp is over, but mini-camps are in session! Join us every Friday throughout the fall via Zoom to create, learn, explore and discover together while staying home. Interested in becoming a CIT and creating your own FIU@Home? Contact anduran@fiu.edu.
Hannah Velasco contributed to this article.
---
The challenge to create something new is enthusiastically accepted by artists and scientists alike. Whether repurposed, recycled or reimagined – there are many ways to make something unique to solve a problem or enhance the world. Follow FIU@Home for more ways to create something new.