Camp Activities
Connect with peers, engage in hands-on STEAM activities and learn about our many exciting research areas. Built for ages 6-14, each camp session runs for 90 minutes and includes a lab, activity, virtual field trip or "meet the expert" experience.
What Our Campers' Parents Say:
"It's a really enjoyable camp and activities. … Really good to pass time and learn new things while having fun."
"I have been listening in here and there and the camp is so cool! Just loved the fish surgery day."
"Loving all these lady scientists! Super cool!"
Summer Camp Inspire
July 5 through July 30, 1-2:30 p.m.
Cost: $100/week
All 4 weeks: $360 (10% off each week)
Age Groups: 6-8, 9-12 (Campers will be all together and split into breakout rooms by age for activities)
Camp Weeks and Themes
Register for Camp
Submit the online registration form with your camper's information:
You will receive a confirmation email with a link for payment. Please also fill out the following forms and email them to anduran@fiu.edu: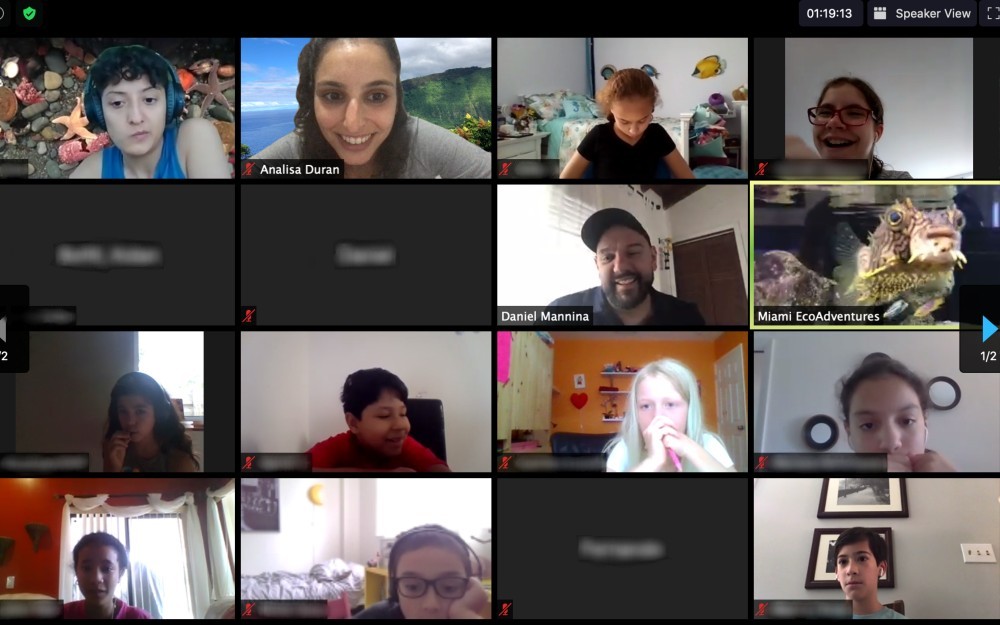 Frequently Asked Questions
Camp Staff
Staff are assigned to groups that remain constant for the duration of the program.
All camp staff undergo and clear a Level 2 background check and attend a mandatory training session before camp starts.
Special Guests
Throughout the camp experience, campers will meet FIU researchers and students to discuss ongoing research, see unique facilities and get a glimpse into the exciting work being conducted at the university.
Counselors In Training
A Counselor In Training is a camper who is 13-14 years old and is interested in diving deeper into the material reviewed in camp and assisting the Education & Outreach team in creating FIU@Home educational content.
CITs are required to register for a full month of camp. They participate in all camp activities and gain writing, communication and leadership skills.
CIT Project
After each day of camp, write a 2- to 4-sentence blog post about your experience at camp. Blog posts can be about:
What you learned today
Activities you participated in
What you thought about camp
What you think would make the virtual camp experience more fun

Blog posts can be written in a word document and emailed to anduran@fiu.edu at the end of each week.
Meet with the FIU mentor after camp for about 15 minutes to review work and answer questions.
Write an FIU@Home article with an FIU staff member. Choose a science-related topic based on camp themes and explore FIU research on the subject (with help from the FIU staff member) and create a fun at-home activity for kids and families to do. Your FIU@Home article about your activity will appear on the CASE News page.
Questions? Call 786-556-2068 or email anduran@fiu.edu.
Contact Us
For more information or questions about camp schedules and availability, call us at 786-556-2068 or email us at anduran@fiu.edu.