FIU@Home: Explore Aquarius Reef Base
Written by Education Outreach
February 1, 2021
---
In the Florida Keys, 60 feet below the ocean surface, living underwater is a reality for scientists studying coral reef ecosystems at FIU's Aquarius Reef Base — one of the only operating underwater laboratories in the world.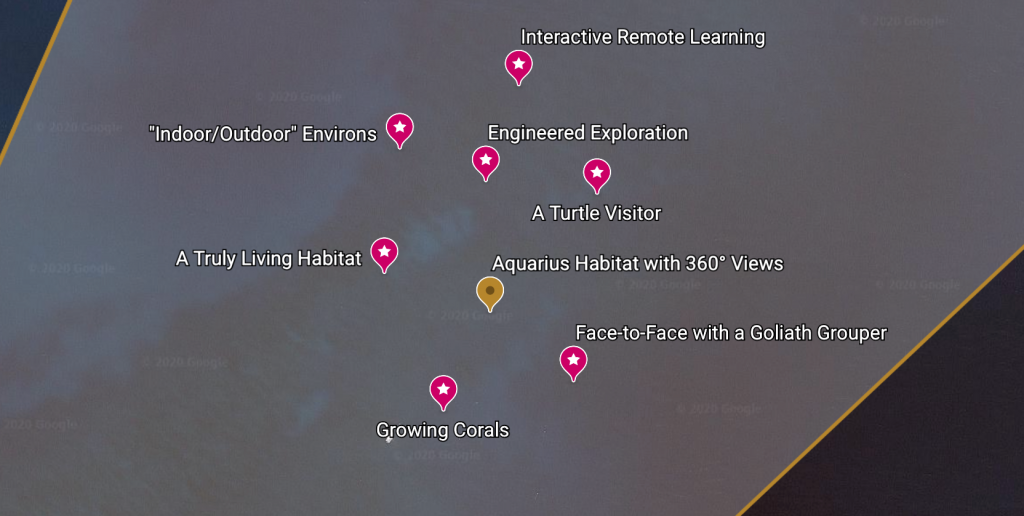 WHERE IN THE WORLD?
Conch Reef
Islamorada, FL
Coordinates: 24.9502° N, 80.4534° W
Aquarius is located in the Florida Keys National Marine Sanctuary, a marine protected area that covers 3,800 square miles. Within its boundaries, regulations protect and conserve marine life. Marine protected areas — or MPAs — help manage marine resources effectively and sustainably. They support marine life, people in the fishing industry and all stakeholders in the community. These controls protect the fish we eat and the places we visit, like coral reefs.
DOWN BELOW
Aquarius, the world's only undersea lab, has contributed to countless research studies to better understand what is needed to protect marine resources.
Some other notable Aquarius highlights include:

START EXPLORING
Ready for your own adventure? Dive deeper with the following activities:
Challenge — Using the interactive map, downloadable activity sheet and fish identification guide, explore Aquarius Reef Base to get a glimpse of this unique location and record your observations. Then do a bit of research and answer the following:

If you were a scientist studying at Aquarius, what would your research question be?
What would you like to learn more about or discover? Keep in mind the scientific method: forming a question is one of the first steps. Example: I would like to study how sharks interact with their prey.

Take It Up A Notch – Aquarius is not only accessible for scientists and scuba divers. Through Mission Inspire, teachers and students can experience the underwater world of Aquarius in their classroom with Expedition Ocean. This includes cross-curricular lesson plans, access to data sets and exclusive Aquarius science materials.
In or outside of the classroom, interactive group experiences and virtual camps give everyone a chance to slip into the fins of aquanauts.
Analisa Duran contributed to this article.
An earlier version of this story incorrectly stated the number of aquanauts, missions and days saturated. It has been corrected to reflect all missions through 2019.
---
All across the globe, researchers are investigating important questions and uncovering new discoveries. Follow FIU@Home for more virtual tours around the world.