When Dr. Gautam Sen joined FIU in 1984, he was able to establish a top-of-the-line analytical and experimental petrology laboratory in the young Geology department. He quickly obtained National Science Foundation funding to support his research and was among the first FIU scientists to do so. Dr. Sen's success, along with others in the department, resulted in Geology being granted the first FIU doctoral program in the physical sciences in 1994.
In subsequent years, Dr. Sen mentored many graduate and undergraduate students who did important work in petrology. He was a trusted mentor to his students and a generous friend to his colleagues. In the early days of FIU's doctoral science programs, Dr. Sen initiated and led the Presidential Distinguished Lecture Series which brought numerous distinguished scholars, including Nobel Laureates, to the university and greatly enhanced FIU's visibility and reputation. He also served as associate dean of research for the former College of Arts & Sciences, playing an instrumental role in bringing research as a primary focus to the university leadership.
In 2001, Dr. Sen founded the Florida Center for Analytical Electron Microscopy, which he built from NSF funding and which he continued to direct until 2007. He won four awards from FIU and was made a Life Fellow of the Geological Society of India.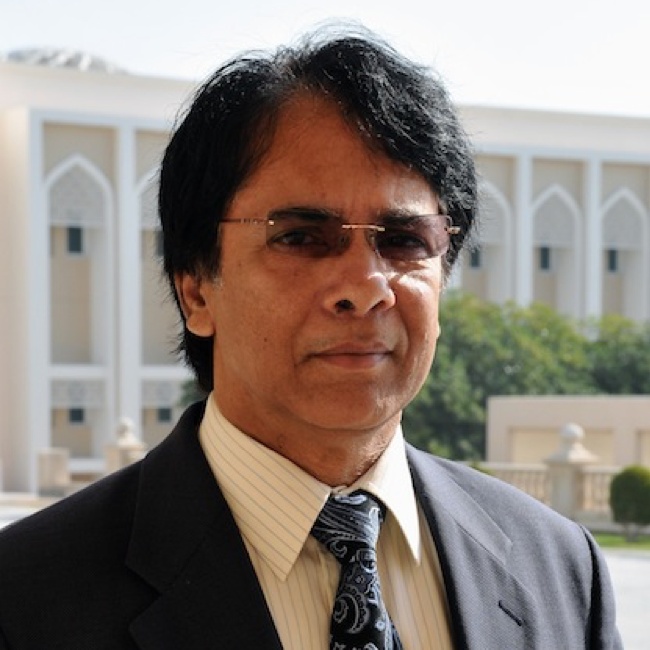 Dr. Gautam Sen Endowment: Geology Student Awards
In recognition of Dr. Sen's many achievements and the profound impact he had in his lifetime, the Sen family has established the Dr. Gautam Sen Endowment to support annual student awards for Geology students at FIU. The endowment has a goal of raising $25,000 to ensure the awards are offered in perpetuity.
Once the endowment goal is met, Geology students will be eligible to receive a $500 student award. Two awards may be conferred each year.
Dr. Gautam Sen Undergraduate Excellence Award
To be awarded to a student majoring in Geosciences/Geology who received a top score in the prior year's undergraduate Petrology course (currently GLY 4300).
Dr. Gautam Sen Graduate Excellence Award
To be awarded to a graduate student in Geosciences/Geology who has a combined GPA of 3.0 or better in Geology courses. Preference will be given to students who have received byline credit on two peer-reviewed geology journals.
By giving to the endowment, you are continuing the legacy Dr. Sen has solidified on our campus and around the world, and you will contribute to impacting the many lives of the students following in his footsteps as they break barriers and advance their field.
Contribute to the Dr. Gautam Sen Endowment 
Faculty and staff may give through payroll deducations via Ignite. Donors wishing to give by wire transfer may contact Stephany Alvarez-Ventura. Checks payable to FIU Foundation with "Gautam Sen Endowment" in the memo may be mailed to Florida International University, College of Arts, Sciences & Education Attn: Stephany Alvarez-Ventura, 11200 SW 8th Street, CASE 450, Miami, FL 33199.
Dr. Sen's Awards and Achievements
Dr. Sen's many honors and contributions include:
2012: "Glory of Bengal" award from Non-resident Overseas Association of Bengal (NROAB), Dubai
2012: Distinguished Senior Scientist, National Institute of Geophysical Research, Hyderabad, India
2005: University Award for Excellence in Service, FIU
2004-2007: Member, Faculty Senate, FIU, USA
2002: University Award for Excellence in Research, FIU
1998: Elected Life Fellow, Geological Society of India
1991: College of Arts & Sciences Faculty Excellence Award, FIU
1988: University Award for Excellence in Research, FIU
Praise for Dr. Sen
"As many accomplishments as Gautam had, his biggest success was life. He loved people and embraced the sheer joy of life's journey. He was generous, good-natured to students, colleagues and his many friends outside the geological world. While he left us too soon, his was a life lived to the full."