Biscayne Bay Campus Field Trip

South Florida's waters and coastlines are waiting to be explored, so make a splash.

Tour the BBC campus, experiencing a perfect living lab to explore the interconnectedness between marine and terrestrial ecosystems. Then, venture into Biscayne Bay with scientific instruments to collect and log information about animal specimens. Upload data to citizen science apps to share with the world. Topics include seine fishing, marine debris cleanups, invasive species removal and intertidal zone surveying.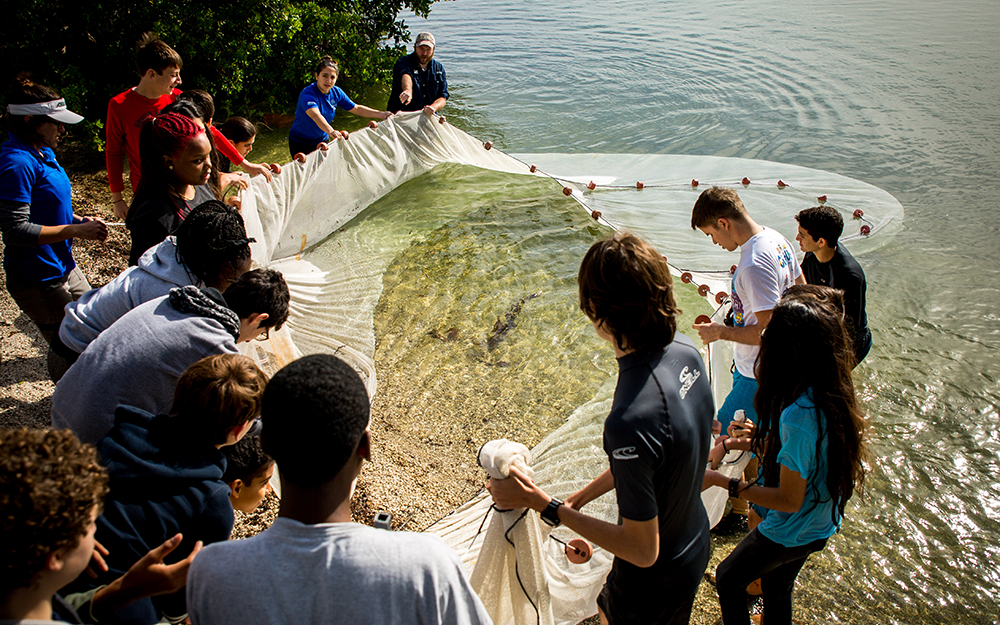 Reserve This Program
Fill out our form to begin your reservation. Each field trip accommodates up to 30 individuals. Virtual group field trips run 120 minutes. Experiences are primarily offered during core hours of 10 a.m. to 3 p.m.
Virtual
Offered Monday–Friday

Requires a strong internet connection

$415 per virtual field trip (max. 30 participants)
In-Person
Primarily offered on Tuesdays, Wednesdays and Thursdays

Hosted at the Biscayne Bay Campus

$450 per in-person field trip (max. 30 participants)
Requests for alternate days or times will be considered. Within 48 hours after you submit your request, an Education Outreach team member will contact you to discuss your proposed itinerary. Once everything is reviewed and set, the invoice will be sent.
Alignments

Check out how our program aligns to Florida Department of Education and Scout benchmarks:
More to Explore
Want to get more from your adventures?
Combine labs, demos and field trips to reinforce learning and fun. 
Animal Encounter – Get to know the creatures that help keep the balance of marine and coastal ecosystems everywhere. Dive in as you explore marine invertebrates from Biscayne Bay.
Planet Plankton – Many marine invertebrates start out as zooplankton before growing into other species – explore a variety of plankton through a microscope.