FIU@Home: Explore Everglades stories
Written by Education Outreach
July 27, 2021
---

Getting outside and diving into a good book are tried and true summer traditions. Reading challenges during the sweatiest months of the year aim to prevent annual learning slumps and keep people of all ages connected to the world around them. 
From ecological, historical and anthropological perspectives, the Everglades has sparked the literary imaginations of a range of writers looking to bring this tropical preserve to life for readers everywhere.
Stretching across 1.5 million acres in southern Florida, Everglades National Park has been shaped by the plants, animals and people that have made it their home. Whether full time residents or migratory visitors, the Everglades has been impacted, for better and worse, by the species who depend on it.
"Everglades National Park is rich in diversity of not only the flora and fauna, but also many human stories," Yvette Cano, director of education for Everglades National Park, said. "The park has been shaped by such powerful forces like fires and floods, is home to prehistoric reptiles, and is visited by some of the world's most diverse and unique creatures. The beauty surrounding the park includes not only these biological wonders, but also a rich and fascinating cultivation of military and cultural history embedded in its roots."
She recommends the following selections for readers just beginning to explore the river of grass or suggestions for those who want to look a bit deeper.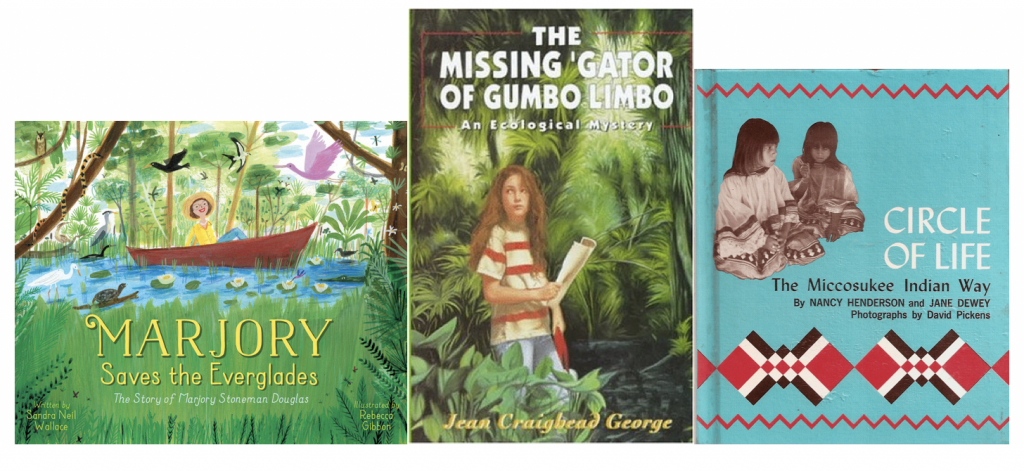 FOR YOUNGER READERS
While it takes the power of many to change, sometimes it's the passion and determination of one individual to rally progress — like Marjory Stoneman Douglas. A biographical tale of activism, readers journey through her childhood and early career as WWI journalist which led her to a life dedicated to Everglades preservation.
Book #2: 
In this ecological mystery for teens, learn about the different ecosystems throughout the Everglades like "Gumbo Limbo" through a fictive, whimsical eco-mystery.
For readers looking for a non-fiction first hand account, journey through the River of Grass from the perspective and rich natural history of the Miccosukee Indians.
FOR OLDER READERS
Explore the history of pioneer life in the sunshine state from the perspective of a Florida family in this award-winning novel. Join the MacIveys as they encounter everything from mosquitos, hurricanes, then-unknown animal species and even confederate deserters.
This global military drama highlights the historical tensions that grew between the United States and Soviet Union after the Cuban Missile Crisis of 1962. Three years later the US Army Corps of Engineers completed a missile site — in what is now known as Everglades National Park.
EXPLORE MORE
Ready to start your own Everglades-inspired journey? Check out Everglades National Park's calendar for all upcoming virtual and in-person events or join the College of Arts, Sciences & Education through a variety of summer programs.
---
With the power to transport a reader to other places, times and dimensions – there is nothing like a good book. No matter the topic or the age, there is a read to guide, inspire and enthrall. Follow FIU@Home for more new books.