Written by Analisa Duran
April 23, 2020
---
Every second, 160,000 plastic bags are used around the world. Used for an average of 12 minutes, they take about 1,000 years to decompose. Repurposing bags into something like plastic bag yarn – plarn for short – helps keep them out of the environment. Whether to make necklaces, bracelets, carpets or even purses, plarn gives plastic bags a new life while protecting 267 species affected by marine debris worldwide.
At FIU, scientists such as earth and environment Ph.D. student Melinda Paduani are studying marine debris and its impact on the environment. Her research focuses on marine debris in mangrove habitats.
"I have always been passionate about reducing plastic waste," Paduani said. "I never thought I would actually be studying marine debris."
In this activity, we'll reuse plastic bags to make a plarn bracelet.
MATERIALS
Plastic bags
Scissors
Toilet paper roll (optional)
Beads (optional)
MAKING A PLARN SPOOL
Start with plastic bags of any size, shape or color – the more diverse, the more interesting.
Flatten the plastic bag by smoothing all sides. Make sure to get all the wrinkles out.
Cut off the handles and the bottom of the bag.
Discard of the handles and bottom part of the bag and flatten out the bag completely.
Cut the bag into strips, from closed end to closed end.
This is where it gets a little tricky. Take one of strip and string it through another strip. Then take the left-side loop and string it through the right-side loop.
Pull tight (but not too tight, the bag might rip) and repeat step 6 until there are no more strips of bag.
You can now roll the plarn around the toilet paper roll if you would like to make a spool of plarn.
MAKING A PLARN BRACELET
 To make a simple bracelet, cut plarn into three even strips and make a simple knot connecting all three strips at one end. Taping it onto a table or hard surface might come in handy when braiding.
Braid the plarn. Watch a tutorial on how to make a braid here. Braid until the desired length is reached. Beads can be woven in before, during or after braiding
Cut the excess pieces and tie to wrist.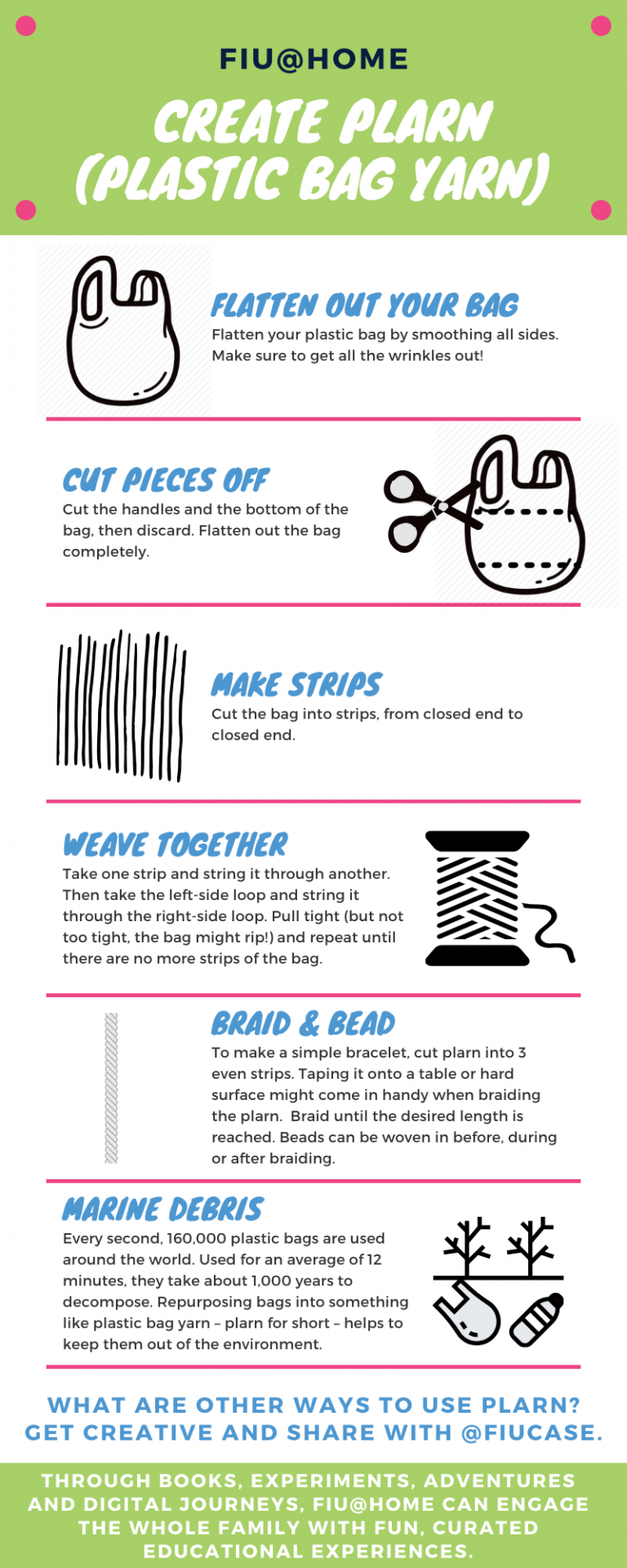 NOW WHAT
What are other ways to use plarn? Get creative and share on social media with @FIUCASE.
Want to do more for the environment?
Plastic bottles are one of the most common litter items found in the environment. Paduani suggests you don't buy single-use plastic water bottles. Instead, get a water filtering pitcher or drink water from the fridge if you have one with a filter built in. This will not only reduce your own plastic footprint, it can encourage your entire household to do the same too, Paduani said.
---
The challenge to create something new is enthusiastically accepted by artists and scientists alike. Whether repurposed, recycled or reimagined – there are many ways to make something unique to solve a problem or enhance the world. Follow FIU@Home for more ways to create something new.