MS in Kinesiology Program
The Master's of Science in Kinesiology and Exercise Science is a STEM designated degree program emphasizing a disciplinary and interdisciplinary scientific approach to the application of kinesiology and exercise science across the lifespan. The program integrates physiological and psychosocial research with real-world applications to prepare students to be scientist-practitioners. For a detailed view of admission requirements, course catalogs, and commonly offered courses see our Course Descriptions and Catalog
The program is ideal for students beginning or furthering their professional career as well as those intending to pursue research programs or terminal degrees, including allied health sciences (e.g., physical therapy, athletic training, occupational therapy, medical school) and the PhD in Teaching and Learning, concentration in Kinesiology.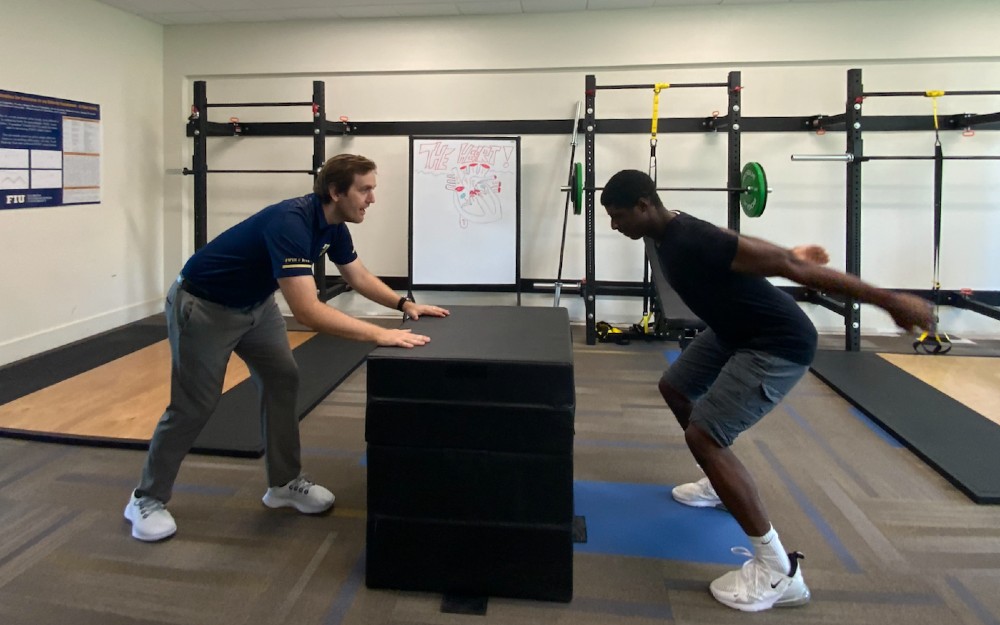 Health and Human Performance Focus
The mission of the Health and Human Performance Focus is to develop students into highly qualified strength and conditioning professionals. Our curriculum takes a multidisciplinary approach to developing scientific practioners who excel in research, professional practice, education and psychosocial competency. Ultimately the skills learned in this emphasis translate into experiences, skillsets and professional certifications that will prepare them for their respective professions and/or doctoral degrees.
For successfully meeting established Education Recognition Program criteria, the National Strength and Conditioning Association officially recognizes Florida International University.
Mental Performance
Focus
Students interested in sport and exercise psychology may take courses towards becoming a Certified Mental Performance Consultant (CMPC) through the Association for Applied Sport Psychology (AASP). The program and FIU offer all the required courses to become certified. Additionally, interested students can participate in supervised applied experiences, which are required for certification.
Requirements
The Master's of Science in Kinesiology and Exercise Science is a 30-credit program. The Graduate Catalog contains detailed admission requirements and example course offerings. A personal training or strength and conditioning certification from an NCCA-accredited organization may substitute for the prerequisite courses. For a detailed list of courses offered in Kinesiology and Exercise Science, as well as a Kinesiology specific copy of our course catalogs view our Course Descriptions and Catalog.
Faculty Research
Program faculty conduct research in a wide range of disciplinary and interdisciplinary areas. Current faculty research focuses on the role of attention in sport performance and exercise adherence, psychophysical and affective changes, physiological and psychophysiological responses to exercise, and exercise testing.