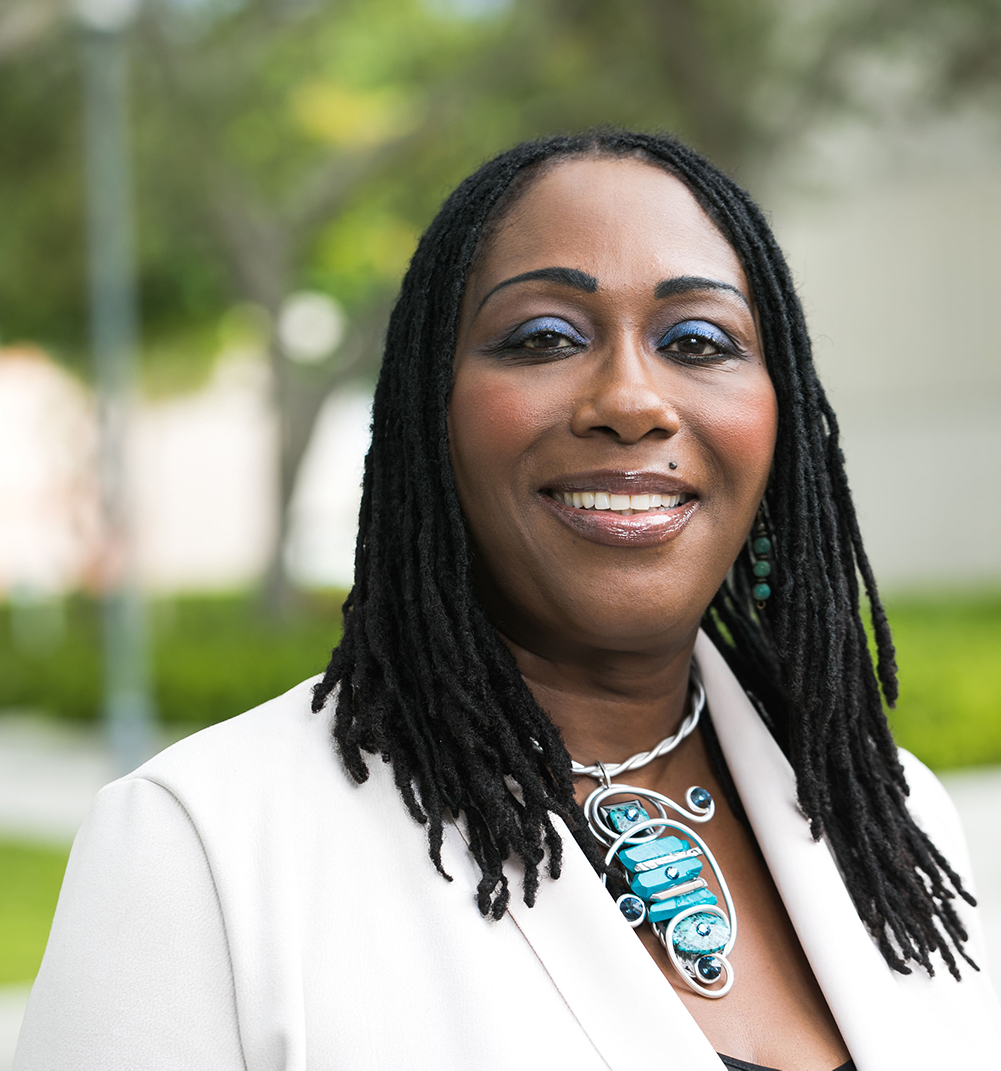 Donna M. Weir-Soley
Associate Professor
English
---
Office: AC1 347
Phone: 305-919-4817
Email: weirsole@fiu.edu
Dr. Donna Aza Weir-Soley was born in St. Catherine, Jamaica and migrated to the United States at the age of 17. She attended high school in both Jamaica and New York but received her diploma from Andrew Jackson High School in Queens, New York. While an undergraduate at the City University of New York at Hunter College, Weir-Soley was in the first cohort of students of color across the United States to win a Mellon Minority Undergraduate Fellowship in 1988. That fellowship allowed her to study at the prestigious Oxford University in the summer of 1989 (Oxford Center for African Studies, Jesus College) where she took courses with Professors Anthony Appiah, Houston Baker, Carole Boyce-Davies, Geneva Smitherman, Valerie Smith, and many other notable scholars in the field she would later choose to make her own. She graduated summa cum laude from Hunter College in 1990 and won the Andrew Mellon Graduate Fellowship in the Humanities to attend the University of California, Berkeley. Dr. Weir-Soley graduated from U.C. Berkeley with an MA in English (special emphasis in Creative Writing) in 1993, and a PhD in English Literary Studies in 2000. She is currently an associate professor of English, and an affiliate faculty member in African & African Diaspora Studies, Women's Studies and the Latin American and Caribbean Center at Florida International University.
Courses Taught
Face-to-Face Undergraduate Courses
AML 4606: 19th Century African American Literature
LIT 3384: Caribbean Women Writers
LIT 4536: Working Class Women's Literature
ENG 2012: Approaches to Literary Studies
Online Course Offerings
AML 4624: African American Women Writers
AML4612: Literature of the Harlem Renaissance Period
*AML 4606: 19th Century African American Literature (with community engagement component)
Graduate Courses
AML 5305: Major American Literary Figures: Audre Lorde and Toni Morrison
*AML 4606 Summer B online (partners with Exchange for Change to facilitate safe educational exchanges between FIU students and Dade inmates)
Dr. Weir-Soley also won the Woodrow Wilson Career Enhancement Fellowship in 2004-2005 to complete her scholarly work, Eroticism Spirituality and Resistance in Black Women's Writings (University Press of Florida, 2009). Weir-Soley is a frequent invited speaker at the annual Woodrow Wilson Foundation Career Enhancement Fellowship Conference where she mentors new Woodrow Wilson Fellows (junior faculty) on balancing work and life in academia. She is co-editor (with Opal Palmer Adisa) of the anthology Caribbean Erotic (Peepal Tree Press, 2010), and single author of two books of poetry: First Rain (full length, Peepal Tree Press, 2006) and The Woman Who Knew (chapbook, Finishing Line Press, 2016).