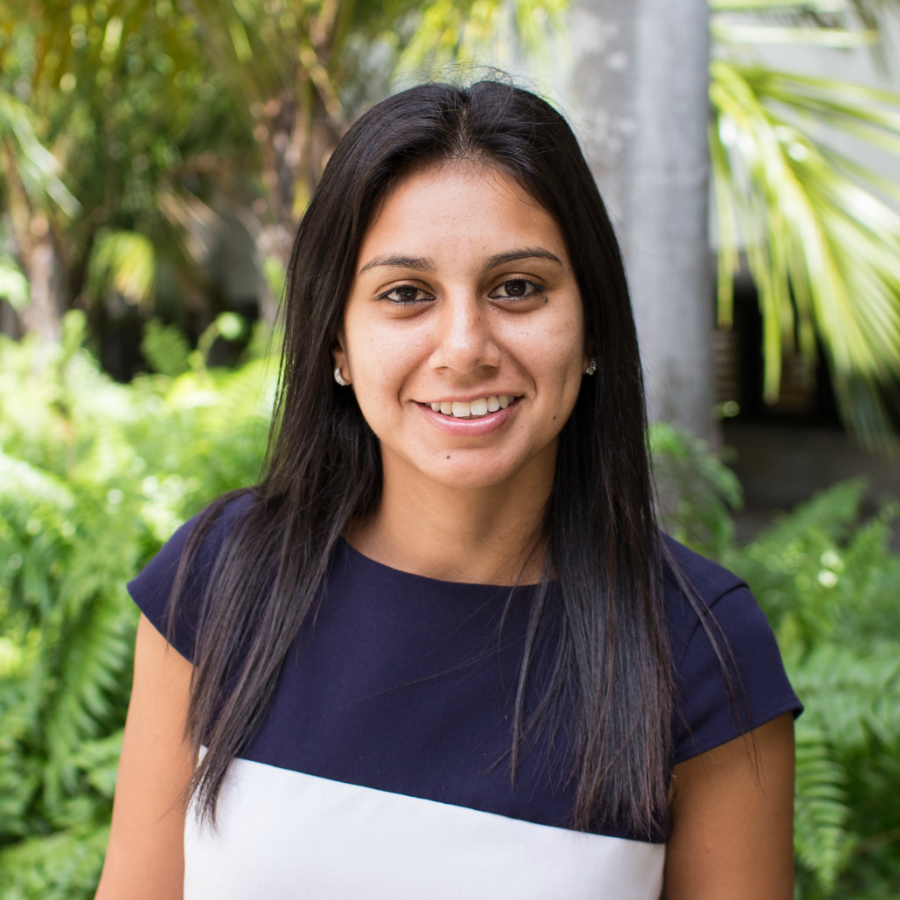 Tania Santiago Perez
Assistant Teaching Professor
Counseling, Recreation and School Psychology
---
Office: ZEB 336A
Phone: 305-348-3220
Email: tsantiag@fiu.edu
Specialty: Recreational Therapy
Tania Santiago Perez, MS, CTRS, has been an assistant teaching professor of recreational therapy at Florida International University since 2015, and the leader of the Recreational Therapy tracks since 2018. She earned her BS in Exercise and Sports Sciences in 2010, and her MS in Recreation and Sport Management, Recreational Therapy track in 2013. She is currently a PhD Candidate at Clemson University in the PhD in Parks, Recreation and Tourism Management, Recreational Therapy cognate area. Her dissertation involves investigating the relationship between scuba diving social identity and levels of health, health-related quality of life, disability, and self-efficacy, among individuals living with physical disabilities. Tania has 2 published articles, 3 conference proceedings and 12 presentations at recreational therapy state, regional, and national conferences.
Tania is passionate about expanding access to the social, physical, psycho-emotional, and spiritual benefits of leisure and recreation to all people. Her professional experience as a Recreational Therapist includes working in the private, public, and non-profit sectors. In the private sector, Tania worked for an assisted living facility as an Activities Director, helping older adults with neurocognitive conditions. In the public sector, Tania worked as a Recreational Therapist for Miami-Dade Parks, Recreation and Open Spaces, where she provided programs for a variety of populations including youth and adults with intellectual and developmental disabilities, youth and adults with physical disabilities, and veterans. In the non-profit sector, Tania worked for a non-profit foundation serving ethnic minorities, individuals living below the poverty line, older adults, and youth involved in health-related risky behaviors. During her time at FIU, Tania has taught over 60 courses in 8 different topic areas and has co-founded three community programs with students and community partners: 1) a handcycling program for adults with physical disabilities, 2) a soccer program for adults with intellectual and developmental disabilities, and 3) a virtual adult day training program for adults with intellectual and developmental disabilities. Tania has served as reviewer for the American Therapeutic Recreation Research Institute since 2015, as board member for the South Florida Paralympic Partners since 2015, as secretary and senator for the United Faculty of Florida-FIU Chapter since 2017, as member of the Faculty Senate Interprofessional Ad Hoc Committee since 2019, as board member of the Therapeutic Scuba Institute since 2019, and as member of the American Therapeutic Recreation Association International Committee since 2020.
Tania has received several FIU awards including the 2017 CASE Engagement Award, the 2018, 2019 and 2020 CASE Service Awards, and the 2019 Top Scholar Award for Teaching and Mentorship.
Research Areas
Adaptive Scuba Diving
Social Identity and Health
Social Determinants of Health
Adaptive Sports, Paralympic Sports, and Special Olympics Sports
Diversity and Equity in Leisure and Recreation
Recreational Therapy for Individuals living with Physical Disabilities
Recreational Therapy for Individuals with Intellectual and Developmental Disabilities
International Recreational Therapy
Courses Taught
LEI3001 Leisure and Recreation in America
LEI3703 Introduction to Recreational Therapy
LEI3707 Inclusive Recreation Services
LEI3723L Facilitation Techniques and Modalities Lab, Therapeutic Use of Sports
LEI4720 Trends, Issues, and Managerial Aspects of Recreational Therapy
LEI4724 Facilitation Techniques in Recreational Therapy
LEI4940 Internship I
LEI4941 Internship II
Education
PhD (expected 2022) Clemson University, Parks Recreation and Tourism Management, Recreational Therapy Cognate Area
MS (2013) Florida International University, Recreation and Sport Management: Recreational Therapy
BS (2010) Florida International University, Exercise and Sport Sciences: Exercise Physiology