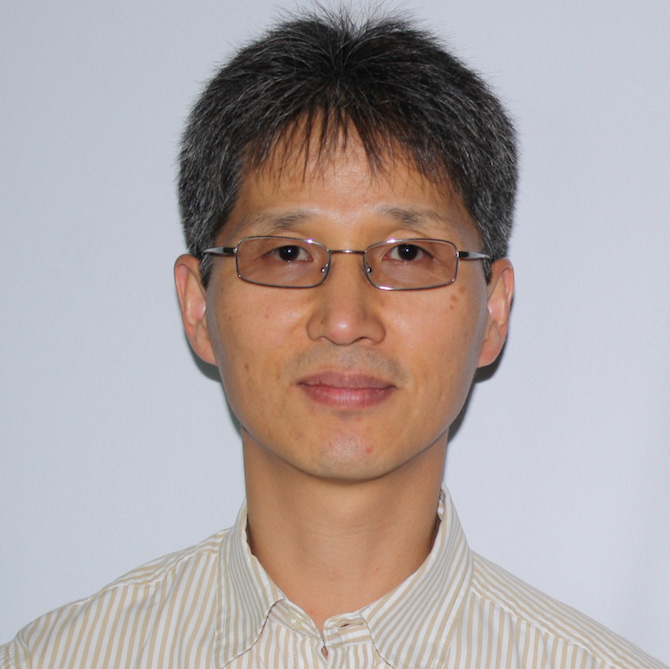 Joongho Moon
Associate Professor
Chemistry and Biochemistry; Biomolecular Sciences Institute
---
Office: CP 311
Phone: 305-348-1368
Email: jmoon@fiu.edu
Dr. Moon received his Ph.D. in Inorganic and Materials Chemistry from Pohang University of Science and Technology in August 1999, where he studied surface modifications and characterizations. At MIT, Dr. Moon studied the conjugated polymer brushes and the effect of unique surface structures on chemical sensing under Prof. Tim Swager. After seven-year industrial research experience, Dr. Moon joined the Department of Chemistry at FIU. His current research focuses on the development of novel fluorescent materials for sensitive and reliable detection of target molecules and substances.
Education
B.S., Pusan National University (Korea)
M.S., Pohang University of Science and Technology (Korea)
Ph.D., Pohang University of Science and Technology (Korea)
Postdoctoral Associate, Massachusetts Institute of Technology
Research Areas
Our research interest has focused on redesigning and controlling the self-assembly of CPs to maximize their performance in aqueous environments. Our group has developed novel synthetic and fabrication methods for biodegradable CPs and conjugated polymer nanoparticles (CPNs) and used the polymeric materials for cellular imaging, sensing, and delivery of biologically active substances. Current research focus is to invent functional materials for 1) therapeutic delivery to target tissues 2) monitoring of biological events at intracellular organelles, and 3) in vitro diagnostic platforms for fast and sensitive detection of cancer cells, bacteria, or glycosaminoglycan.