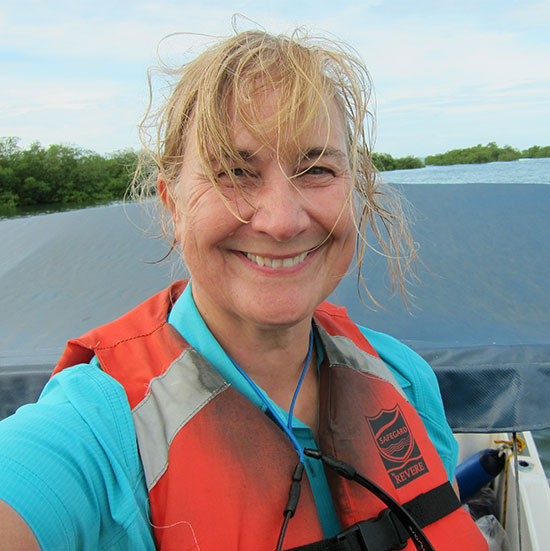 Laurel Collins
Professor
Earth and Environment
---
Office: PC 435, PC 448, AHC5 377
Phone: 305-348-1732
Email: collinsl@fiu.edu
Specialty: Paleobiology/Paleontology
Research Areas
Dr. Collins investigates environmental changes of the past and the extent to which they have affected evolution, including changes in evolutionary rates, communities, and organismal morphology. The originations and extinctions of fossil foraminiferal taxa and their ecology/paleoecology are used to identify evolutionary, paleoceanographic, paleoclimatic and tectonic trends through time.
Current Research Projects
Neogene Evolution of Tropical American Benthic Foraminifera: The Neogene emergence of the Isthmus of Panama separated tropical Eastern Pacific and Western Atlantic biotas. Analysis of microfossils collected during fieldwork in Central America (Panama, Costa Rica, Nicaragua) and Ecuador is establishing a stratigraphic and paleoenvironmental framework, and an assessment of biogeographic and evolutionary changes.
Uplift of the Isthmus of Panama: Stable isotopes of benthic foraminifera from land-based geologic sections are being analyzed to identify the timing of paleoceanographic and tectonic changes associated with the Miocene to early Pliocene emergence of the Isthmus of Panama.
Environmental changes in Florida Bay and the Everglades: Building on previous research on Florida Bay (Cheng et al. 2012, Collins et al. 2019), a mathematical analysis quantifies the varying influence of naturally occurring vs. anthropogenic events on water quality over 100 years. Everglades research in collaboration with FIU Ph.D. Z. Verlaak (Verlaak et al. 2019) uses the ecology of modern foraminifera to interpret several thousand years of the history of variable rates of sea-level rise.
Visit Dr. Collins' website for more information.
Education
PhD Yale University, 1989
MPhil Yale University, 1985
MS George Washington University, 1985
BS University of Maryland, 1974