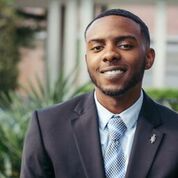 Terrance Lane
(He/him/his)
Graduate Student
---
Email: tlane015@fiu.edu
Program: Clinical Science
Mentor: Katie Hart
Keywords: ADHD, SEL, Community-based Interventions
Research Areas
Terrance Lane, is a first-year doctoral student in the Clinical Science program at Florida International University. He received his B.S. in Psychology from the Florida State University where he worked as a research assistant under the mentorship of Dr. Christopher J. Lonigan in the Developmental Psychopathology lab overseeing fellow undergraduate researchers and the data collection team. He also completed and successfully defended an Honors thesis exploring the effects of SES on ADHD Symptom-like behavior and reading-related outcomes.
Prior to joining our team, he worked as a postgraduate research assistant at the Yale Center for Emotional Intelligence on the IES Preschool RULER project under the direction of Dr. Craig Bailey and Dr. Irem Korucu.
He was also an afterschool enrichment teacher at the elementary school level in Tallahassee, Florida. Terrance's research interests include exploring the interactions among SES, Socioemotional outcomes and academic achievement. Terrance has a specific interest in understanding how the misdiagnosis of ADHD and Conduct disorder affect certain racial/ethnic groups academic performance. In his spare time, he enjoys attending music festivals and concerts, as well as traveling and getting outdoors.
Education
FIU Clinical Science PhD Program

BS, Psychology, Florida State University