Stacey J. Oddman CARI-STEM Endowment Fund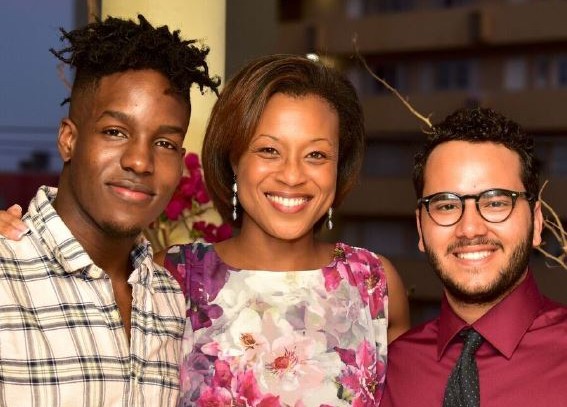 Dr. Stacey J. Oddman is the former Chief of the Family Medicine Department at Holy Cross Hospital in Fort Lauderdale where she served as the Chief-elect for two consecutive terms from 2013 to 2015. She completed her Doctorate in Medicine at Boston University School of Medicine where she served as President of the BU chapter of the Student National Medical Society. In 2003, Dr. Oddman completed a three-year residency in Family Practice at UMDNJ-Robert Wood Johnson Medical School in New Jersey and is Board Certified in Family Medicine.
Photo: Dr. Oddman with the first two CARI-STEM scholarship recipients
Life Challenges

Dr. Oddman was familiar with the challenges of growing up in a single parent household where she had to assume a number of responsibilities being the eldest of three siblings. She witnessed some of the struggles her mother had to endure which made her strive to make a difference not only in her life but her family's life. She chose education as her ticket to accomplishing this task. She graduated with honors from Coconut Creek High School and later became a proud alumna of Florida International University having earned her Bachelor of Arts in Chemistry and a minor in Clinical Chemistry in 1994. Dr. Oddman feels that FIU afforded her the means of completing a higher education through endowed funds and state grants. She is the first generation American born of Jamaican parents in her family and the first to complete a college education from her household. She is proud of her Jamaican heritage and loves South Florida because of its diverse Caribbean culture.

Holy Cross Group

In 2005, Dr. Oddman returned to South Florida where she calls home and since then has been a part of the Holy Cross Medical Group. She remains active in hospital administration serving on multiple committees. Dr. Oddman also served as an oversight physician for the Target Walk-in Clinics in West Palm Beach and Boynton Beach. She dedicates time to the community by volunteering at Light of the World Clinic providing care to the uninsured, publishes healthcare related articles and conducts lectures to various professional and social groups. In 2012, Dr. Oddman was recognized by ICABA as being one of South Florida's 100 Most Accomplished Caribbean Americans and one of South Florida's Distinguished Achievers in Healthcare in 2014. She was also a recipient of the Legacy Magazine award for being one of South Florida's 50 Most Powerful Black Business Leaders in 2013. Gold Coast Fort Lauderdale Magazine selected Dr. Oddman as a "Top Doctor" in 2017.

Board of Directors

Since 2014, Dr. Oddman has had the honor of serving on FIU's Foundation Board of Directors and has made a commitment to helping students break barriers that may be hindering their chances of getting a higher education. As a result, Dr. Oddman has established the CARI-STEM Endowment Fund to help those who are economically disadvantaged and the first generation from their household to pursue a college degree.  
Stacey Oddman Endowment
The scholarship will address two significant challenges facing the future of our nation's workforce and ability to remain at the forefront of STEM (Science, Technology, Engineering, and Mathematics) innovation: the lack of student engagement in STEM subjects and the shortage of qualified STEM teachers. Economic data reveals that one million additional STEM graduates will be needed during the next decade to meet the demand in the United States. Yet in 2015, the US Census Bureau reported that only 36% of non-Hispanic whites ages 25 and older had bachelor's degrees. The numbers were even less for African Americans (23%) and Hispanics (16%). Philanthropic investments in the CARI-STEM Endowment will provide scholarships to students of Caribbean descent enrolled in the College of Arts, Sciences and Education with an interest in pursuing a STEM degree. This would in turn advance FIU's efforts to empower future STEM professionals who reflect the multicultural communities of S. Florida.